Future 750 Twins from KTM & Aprilia
This post has already been read 1616 times!
We all desire a new arsenal of weapons to bring to the race track. Well, there are rumors surrounding both KTM and Aprilia. Sadly, neither will exactly fit into the lightweight class. We have to assume both manufactures will be looking to produce a twin that is ready to race in the World Supersport series. The last middleweight twin to be produced was from Ducati in 2006 with it's 749. While the 848 was legal for the AMA Pro Road Racing supersport series, it was not for the World stage. The WSS series limits twin cylinders to 750cc. From the MCN article; "We will have a new KTM mid-class of bikes within around three years. We are looking at the way this will happen, but we are working on 600 to 800cc V-twins." The lightweight crowd can hope for a 650cc model but with the Duke 690 already out there, I think a 750 would be a safe bet. It would bridge the cap perfectly between the 690 and the RC8 Superbike. Lightweight or not, a KTM RC750R would be great.
The Aprilia 750 seems to be more far-fetched. With no release from Aprilia, it's only heresay. The rumor has it as two new RSV750 modles. An "L" and "R" version. The L version with the Shiver 90 degree power plant. The 750 Shiver does muster a mean 95hp, but no where close to what is needed to compete against a 600 inline 4. The R version with an unknown 60 degree twin. If this is true, we have to assume it will be pumping out a minimum of 120hp. Do you think we will see the RSV750L and RSV750R?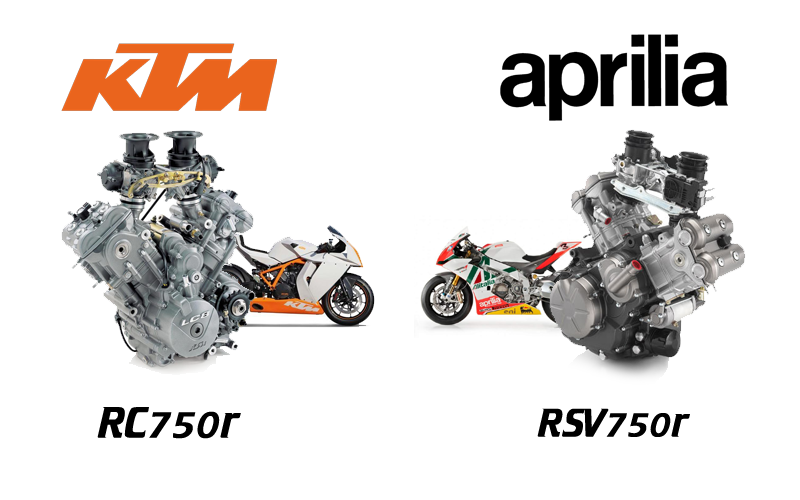 This post has already been read 1616 times!