Screwball – SFV Racer Project – Part 4 – It Races
This post has already been read 1360 times!
Last we left off with the SFV Gladius race project, it was fueling issues after fueling issues. After bunch of testing, swapping out parts, swapping out more parts, the SFV650 has finally finished a race trouble free. To accomplish this we did go back to stock as a starting point. The big bore build and giant DL throttle bodies were removed and stock units were put in along with a new wire harness, ecu, and battery. The charging system had to be re-installed as the goal was not only to finish a short 7 lap sprint race, it was to compete in the 3 hour ASRA Team Challenge race. Of course to finish off the revamp, the frame HAD to be painted yellow.
To start off the morning, there was no Power Commander, just a stock ECU/stock mapping. After both morning practice sessions, there was not a single issue. After the second practice session the rider, Doane Richardson was grinning ear to ear, he was almost in shock how fun the bike was to ride even tho it lacked power compared to his SV with a mild superbike build. We are still shooting in the dark as far as chassis set goes. The Ohlins front forks were set to 490mm (from top of bottom triple to axle) with 32mm triple clamps paired with a 325mm Race Tech shock. This is sits the machine lower in the front from stock and just a tad higher in the back. We didn't need to go drastic at first, make baby steps at first.
So for it's first race the big throttle bodies and power commander were re-mounted along with a larger rear sprocket. The bike launched beautifully and from the third row managed to come out of turn one in 4th. For a few laps no issues but the high heat/humidity started to cause some issues with power delivery so after the race some adjustments were map to the map. A few clicks of rebound added to the rear shock and one turn of pre-load taken out of the forks made the bike feel even better.
Sean Dougherty was the next rider to test out the SFV. Sean typically races a Ducati 1000DS and has never ridden a SV so this was a blind test for him. No practice time, straight to the grid and after a few laps started to get faster and faster. Sean's comments after his ride "Quick good handling. Very stable, mildly forgiving" Of course for him, coming from the big ducati the SFV felt a bit slow he added "Needs horsepower but the non factory brakes are great". His ride also was on some very old Pirelli tires but he would get a chance later in the weekend to get a feel for the SFV on fresh rubber as him, his brother Paul, and Doane would compete in the 3 hour ASRA Team Challenge.
At this point in the weekend we only had 2 concerns with how the bike would fare in the long 3 hour event; would the lack of fairings have an drastic impact on the long ride and how would small gas tank come into play. The SFV holds about 3 liters less than it's older SV brother. Using the practice sessions and sprints races as a test for fuel economy, it was about 15 min per gallon which would almost bite the team in the ass during the race. During Paul's stint he would have the bike run on fumes. Limping the bike back to pit lane for the team's final pit stop. Over all the team finished a few laps down to the class winner (LWT #171 on a 2nd Gen SV650).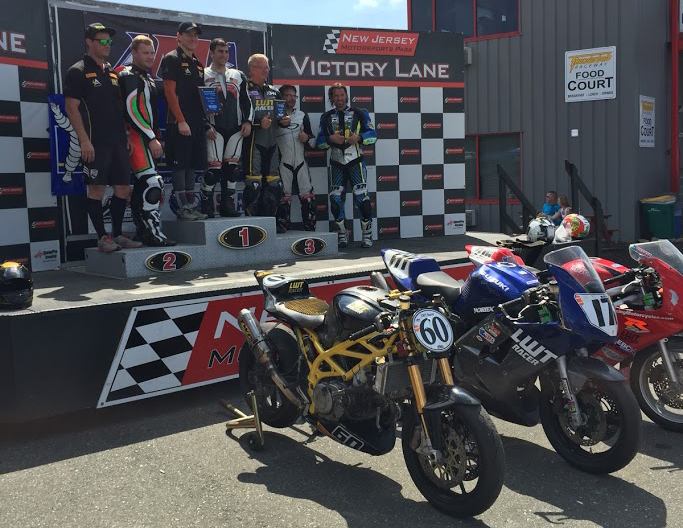 Paul's thoughts on his first SV/Gladius experience, who also coming from a Ducati (900SS) and never ridden a SV, "The Gladius' unique frame/geometry can very clearly be made to handle superbly with some more time spend fine tuning the suspension. Immediate feedback, took little seat time to find a happy baseline to push to; easily planted, to turn, to adjust mid corner and to continue to push towards the limit. Predictably coming from 25yr old 2v, handling much better but it's ability to choose any line or braking point was a completely surprising. Great learning tool. Sharp handling teaches to be smooth. The much weaker powerplant (comparing to his Air Cooled Ducati) encourages more and more corner speed and late entry/braking. Lots of fun albeit tiny and belly pan ruining. I could deal with out my Helmet getting covered in bugs tho".
and From Doane "Bike is a lot of fun and felt much smaller than an SV. It has extremely sharp handling compared to a stock SV front-end even with emulators. The geometry had the front sit lower in the front than i'm used to. It was little unstable on braking/corner entry if given too much input but this could be no issue ridden by a smoother rider. The brakes were outstanding and actually worked! (joking about his own bike having brake issues) I thought the power was there, my bike has a little more on the bottom end though. I want one with RSV4 fairings!"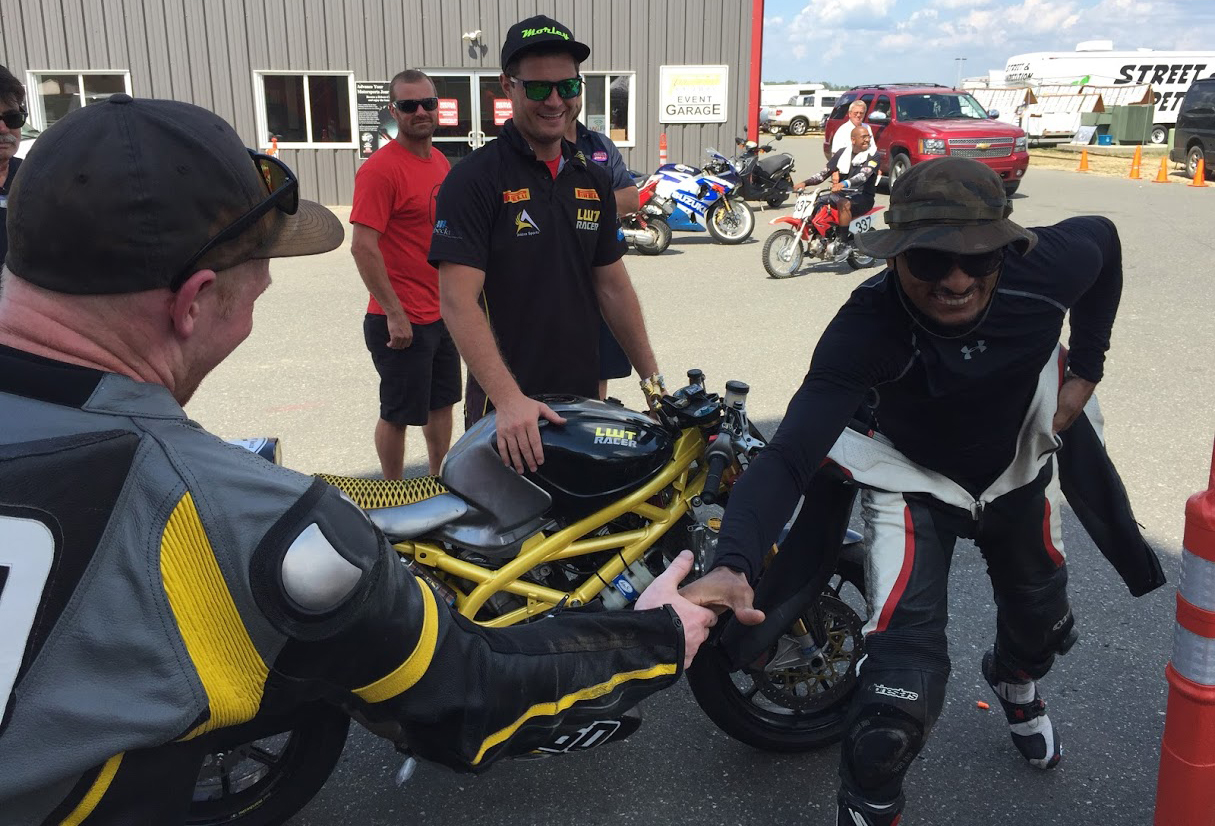 With the feedback we've gotten from the first successful weekend, there is plenty of room for improvement but the over all consensus is very positive. The current set up handles extremely well and is beyond fun to ride. I personally have ridden countless SV650's of both generations and this feels nothing like either. I'm not saying it's better, it's just different. There is something really fun about this bike over the older SVs. The whole bike needs to sit a bit higher and who doesn't want more power? Fairings… it might need them.
The best part about all this testing is that the new 2017 Suzuki SV650 is based of the SFV Gladius' Chassis.
This post has already been read 1360 times!