Racer Profile : Catching Competition – Jason and Billy Catching
This post has already been read 912 times!
Q: When, how, and why did you guys get into the sport?
Jason:It started back in 1992 when a friend had a 1991 GSX-R 750. We headed out to the fastest track in the west, Willow Springs International Raceway. I went along because I wanted to see what it was all about. I had a street bike but never been to a racetrack before. I went along to help out in any way I could. I got to clean the bike and handle duties like fetching water and or food. I think I had more fun then our friend who raced. I wanted to try this out for myself. The following month we bought a very strong 1992 CBR F2 and took it to the track.
Billy: It started when I bought my first 1987 Suzuki GSXR 750 in 1989. It had some aftermarket parts including a rear sets. I thought it was the best bike ever. I wanted to take it to a track but could never pull the trigger. I had a friend who was tired of me "talking" about going to the track. He asked if I would go with him and help out. It was 1992 with WSMC, I was hooked from that point on. Great stories have evolved from the love of this sport and one of my favorites was from that first weekend. Something about rebuilding carburetors in the bathroom sink of our hotel room…in just my underwear.
Q: This is clearly a family affair for you guys, how important is it to have everyone involved?
Jason:Any given weekend we can have Dad, Mom , Brother, Sister's, Uncle, Aunt, Cousin's, Best Friends, girlfriend and Sponsors. Without the continued support of these individuals, I would not be entering my 19th year in the sport. They all dawn the Red and Black and cheer on their favorite Motorcycle Race Team.
Billy: Very. Our parents were divorced when we were very young. We always had to share our time between the two sides of our family. When we got into racing our race weekends became extra time, aside from just the holidays, for our family to get together. Now we don't have that extra pressure of spending time together, it just happens. If we don't see some at Thanksgiving or Christmas it isn't that big of a deal. We will most likely see them several more times soon!
Q: Why lightweight?
Jason: I have ridden 1100's, 1000's, 750's, 650's, 600's, and even a TZ 250. The Suzuki SV 650 is the funnest and most forgiving bike I have ever raced. Pound for pound some of the best racing has been performed by me on one of these. The SV is a great spring board for young up and coming racers as well as guys who want to have fun but are on a smaller budget. I love these bikes!
Billy: I think it is just where we are at now. Not to say we couldn't stay in this class forever, we could. The costs are acceptable and the fun level is just as high. You get the kids coming up and working towards a higher goal constantly giving you the desire to do better, go faster. You get the older guys who are out just to enjoy themselves without all the drama that the middleweight class can have. The SV has taught us quite a bit, patience being the most important.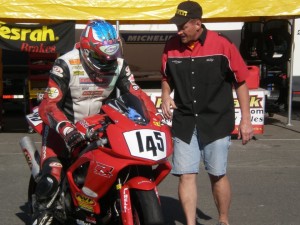 Q: Billy, after so many years wrenching for Jason, how excited are you to do a full season of racing for the first time? Any worries?
Billy: Scared to say the least. My biggest worry is living up to the name that Jason has built as a rider. He is respected as one of the best on the west coast in this class. Growing up it was Jason who had to try and live up to our name…at least in school! I just hope I can make him proud.
Q: Jason, how excited are you to finally have your brother out there with you?
Jason:I am not a parent but I have to say watching Billy touch his knee down as I was right behind him on the track made me feel like one. I was and am so proud of him. He has sat patiently and followed me all over the US waiting for his turn. 18 years later it happened. Billy will get his expert status and eventually run Formula 40 at the same time as me. Talk about exciting!! Until then he is my first student as I share my knowledge with him giving him insight that I didn't have.
Q: Biggest accomplishment?
Jason:That is a tough question. I can say taking the new racer school with WSMC back in 1993 twice (first one didn't end so good), finishing 6th in the Nation at the Suzuki GNF on a GSX-R 1100 with 2 broken wrists, no it would have to be last year with AFM. We wrote history, we won all three class championships,650 Production, 650 Twins and Formula IV. We actually tied for 1st overall track championship but due to the fact that we didn't run Formula Pacific we earned 6th overall. It was a very special year indeed.
Billy: Personally it would be passing new racer school after only ½ of a track day…ever. As a team it would be finishing tied with the most points in the AFM for 2013.
Q: Any big changes for 2014?
Jason:We are joining forces with AP Racing who specialize in making SV's very fast. They are based out of Southern California. Word has it that they might even have the fastest SV's on the west coast. It made since to see what progress I can make mounted on one. I am very excited about the possibility but at the same time nervous. Billy has always been my tuner since day one. He will still be involved but at a reduced capacity. We will be gunning for track records this year.
Billy: More racing and less tuning. Jason has earned a ride for someone else leaving me some more time to try more stuff without the worry of not being able to help.
Q: Anyone you want to thank?
Jason: Blazin Billy Catching, MarSer Designs, Clawson Motrosports, Zoran and the whole TWF crew, Riley's Brewing, Axo, Galfer, Pirelli tires, CT Racing, the whole Catching Competition Crew, Rich Oliver Mystery School for showing me I can go in the dirt and not crash, Big Moose Racing, Woodcraft CFM, Oxymoron Photography and my lovely girlfriend for sharing my dream with me. Looking forward to 2014!
Billy: My brother. I have learned a lot about myself while watching him strive to become a better rider. My girlfriend Shareen. Thank you for understanding the desire to get out on the track and helping to make it become a reality. My uncle Tim, if we say we are going somewhere to race you can rest assured he is doing everything in his power to be there. All of my friends and family who donated to my "get started racing" fund, without their contributions it still would not have happened. All of our sponsors including Chris and Cory from CT Racing, Pirelli tires are the best! Woodcraft for making a superior product that doesn't need to be replaced due to wear. Big Moose Racing, without your help that #6 AFM plate would not have happened. Rileys Brewing, great family run business with outstanding beer! Lastly, Zoran from TWF Racing. The friendship and insight you have provided me is invaluable. No one human being should understand the meaning of being happy the way that you do.
Catching Competition Facebook page
Awesome video about the Catchings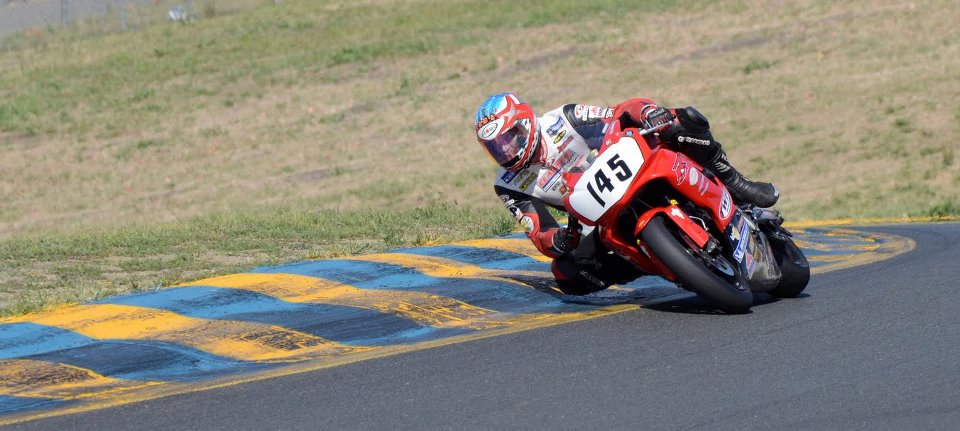 This post has already been read 912 times!