2015 ASRA Team Challenge Round #2 – Carolina Motorsports Park
This post has already been read 588 times!
Round 2 of the ASRA Team Challenge series takes to the "pavement" at Carolina Motorsports Park. Mavros Team, LWT Racer, and Ducati Depot were all in attendance to continue the championship fight. Due to time constraints, the race was shortened down to 75 laps. LWT Racer grabbed the holeshot for the GTL class but with in half a lap, Tom Eubank's Ducati Depot Hybrid with Greg Melka riding took the lead. The LWT Racer SV650 kept on the rear wheel of the hyrbid Ducati for a couple of laps but "The Beast" pulled out a sizable margin. The Mavros Team Ducati Hybrid 848/1000 had Bart Defrancesco as it's first pilot and was running in a solid third place. Around lap 23 Ducati Depot ran into another mechanical issue and for the 2nd round in a row had their race cut short. LWT Racer would take the lead and Mavros team took a pit stop. Seth Starnes went out putting down some hot laps. Around lap 35 LWT Racer 61 made their first and only pit stop for fuel and rider change. During this time Starnes on the Mavros Ducati would take the lead and never look back. Starnes and Defrancesco would finish 73 laps by the race's end putting them at the top step in the GTL class and 5th overall. LWT Racer finishing 71 laps, 2nd in class and 6th overall.
Mavros Team retains the championship points lead with 70 points. LWT Racer 61 in second with 60 points. Ducati Depot in third with 47 points. The series heads to Blackhawk Farms next.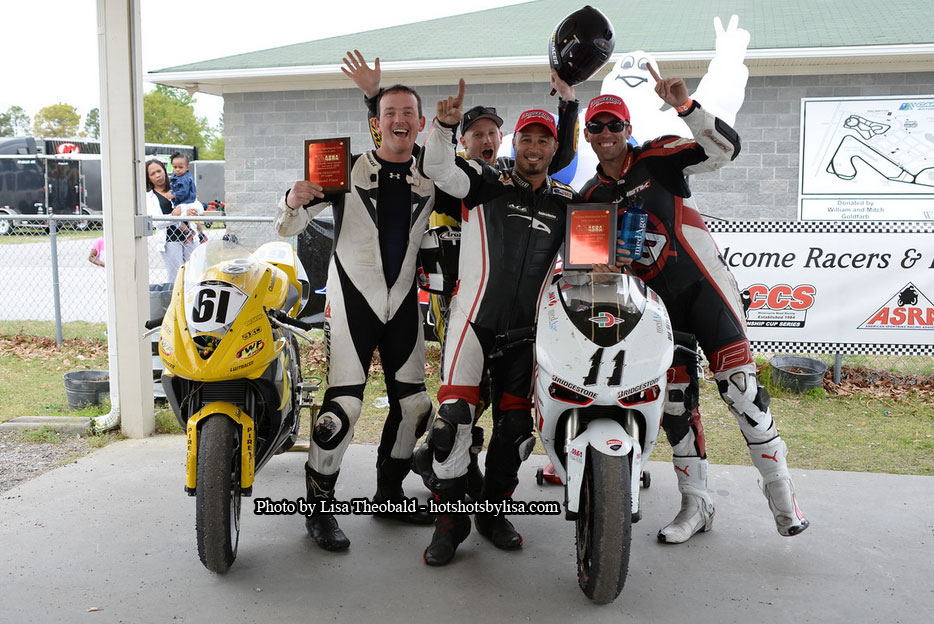 Photo by Lisa Theobald
This post has already been read 588 times!