2015 ASRA Team Challenge Round #7 – V.I.R
This post has already been read 1009 times!
The 2015 ASRA Team Challenge GTL Class title gap was a mere 8 points coming into the 7th round of the series at Virginia International Raceway. Mavros Motorsports had the gap on LWT Racer 61. Will Finnerty, pilot for the LWT Racer 61 team, would be absent from the event and taking over his riding duties would be local Brian Kcraget. Mavros had issues early in the weekend with their Ducati Paul Smart forcing them to run their back up Ducati Supersport. At the drop of the green flag Seth Starnes on the Mavros Ducati dropped the hammer putting in scorching fast laps. Kcraget on the LWT Racer SV650 in 2nd and Arnie Hastings on the Push Brewing SV650 in 3rd. On lap 6 Hastings would run into mechanical issues forcing the team to retire from the race. This left LWT Racer 171 and Slick Willy Racing fighting over 3rd. Starnes ran into issues on the Ducati while leading. The bodywork on the bike was falling off forcing him to pit. During their pre-mature pit stop the #61 with Kcraget behind the bars would take over the lead. Charlie Mavros would head back out on the Supersport but not very long. The air-cooled machine would have major transmission issues forcing a DNF. Todd Alberico (LWT Racer 171) and Draik Beauchamp (Slick Willy Racing) would be nose to tail for 35 laps when both teams would pit at the same time. The 171 team would have a much faster pit stop cementing their 2nd place position. Now with a 2 lap advantage, LWT Racer 61(Brian Kcraget and Sam Wiest) cruised on to take the win completing 68 of the 69 laps only 1 lap down from the over all leader. LWT Racer 61 leaves VIR with 209 points and the championship lead. Mavros Motorsports is now behind by 6 points. With their 2nd place finish, LWT Racer 171, Benjamin Loyle and Todd Alberico have clinched a 3rd place in the series.
The final round will be at Daytona International Speedway on October 16th, 2015.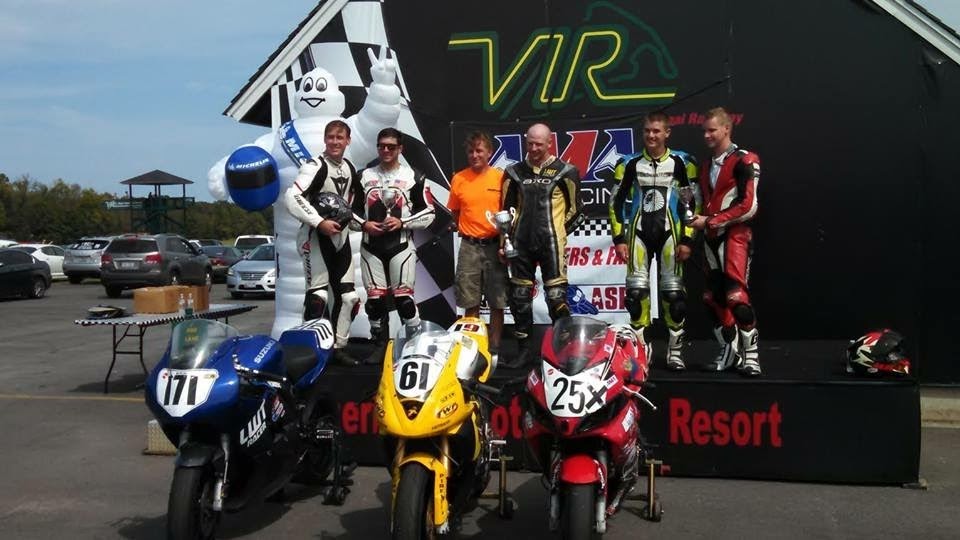 Left to Right: Benjamin Loyle, Todd Alberico, Brian Kcraget, Sam Wiest, Draik Beauchamp, Will Coates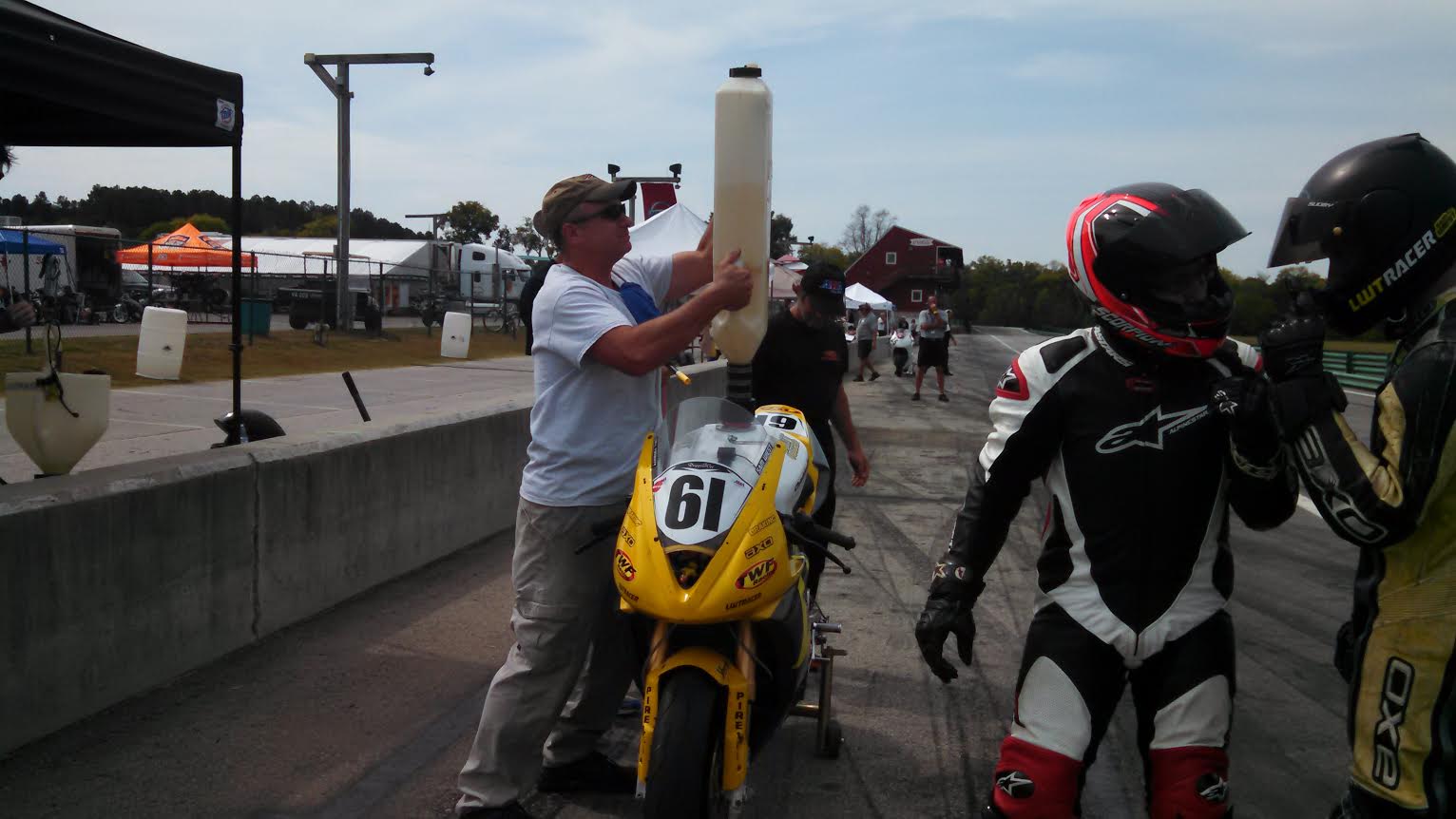 LWT Racer 61 Pit Stop
This post has already been read 1009 times!