2015 ASRA Pro Thunderbike from New Jersey Motorsports Park | The NJMP Barn Burner
This post has already been read 810 times!
ASRA Thunderbike series hit the tarmac of New Jersey Motorsports Park's Thunderbolt course.  After the 12 minute qualifying session on Saturday the front row was set with #808 George Demetroplis sitting on pole position. #32 Brian Rapple, #60 Sam Wiest, and #246 Adrian Hackett rounded out the front row.
The flag dropped and the skirmish began.  Sam Wiest grabs the hole shot with Brian Rapple in tow.  The #60 SV650 opens up and slight gap and for the first four laps second through fifth place diced it up. #24, Bart DeFrancesco, would take over the lead but it wouldn't be easy for him.  Top 5 with in a second of each other all the way to the finish. Adrian Hackett would put a pass on DeFrancesco. Coming out of the last corner Hackett would move over to block a draft pass attempt by Defrancesco. This was unsuccessful as a giant door opened up for Brian Rapple to pass them both for the win. Came down to .07 between first and second and 0.9 seconds between first through fifth.   Rapple stands on top of the ASRA podium with Hackett to his right and Defrancesco to his left.    The series moves on to Summit Point May 24-25.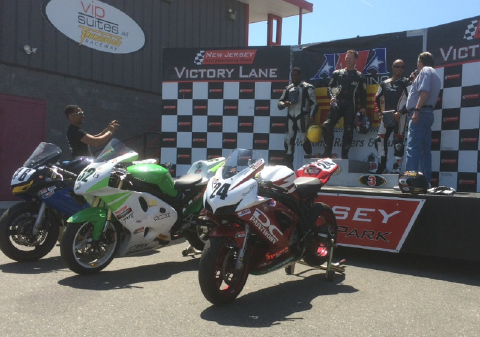 2015 ASRA Thunderbike NJMP Results
Brian Rapple  – Suzuki SV650
Adrian Hackett – Suzuki SV650
Bart DeFrancesco – Suzuki SV650
Sam Wiest –  Suzuki SV650
George Demetropolis – Suzuki SV650
Todd Alberico – Suzuki SV650
Bob Robbins –  Ducati 1100
Savvas Kosmidis –  Kawasaki Ninja 650
Joseph Scanlon –  Suzuki SV650
Douglas Fogg –  Buell
William Finnerty – Suzuki SV650
Billy Pedro – Suzuki SV650
This post has already been read 810 times!