2015 ASRA Team Challenge Round #5 – New Jersey Motorsports Park
This post has already been read 796 times!
Hot does not begin to describe the heat that attacked the field for the fifth ASRA Team Challenge round at New Jersey Motorsports Park in Millville, NJ. With a heat index of 105 and 85% humidity it was not going to be a kind event to any of the racers. As the flag dropped Charlie Mavros on his Bimota 1100 would exit turn 1 in first for the GTL class but Sam Wiest on the LWT Racer SV650 would pass Mavros around the outside of turn 2. The next lead would change 1 lap later as David Hanig, Team RawSpeed, aboard his Ducati Paul Smart would make the pass down the front straight. As the next couple laps unfolded; Hanig, Wiest, and Todd Alberico on the LWT Racer #171 would find themselves in a heated battle not only against themselves but against some middle and heavy weight machines. As Hanig and Wiest went back and forth and making their way past the upper class machines it would cost Alberico some time. Alberico/LWT Racer 171 would make their first pit stop on lap 20 sending Benjamin Loyle out but only to be meat balled 1 lap later for a pit stop infraction forcing a stop and go penalty. Rawspeed and LWT Racer 61 would dice back and forth for the first 35 minutes of this race. This is when Rawspeed on the #4 Ducati would make their first pit stop. LWT Racer 61 would stay out for another 15 minutes being the last bike in the entire field to pit. A few minutes before the #61 would enter pit lane, Seth Starnes on the Mavros Bimota would come by taking the number spot. Will Finnerty went out for LWT Racer 61 securing a #2 spot all the way to the finish. The Mavros team was forced to retire to a mechanical 59 laps into the event. Their battery would fall apart due to extreme heat. Rawspeed (riders: David Hanig & Mark Every) would go on to win the event with LWT racer 61 in 2nd and LWT racer 171 in 3rd.
Mavros Motorsports points lead has been diminished to 20 points over LWT Racer 61. Summit Point is the next battle ground for the series on August 23rd.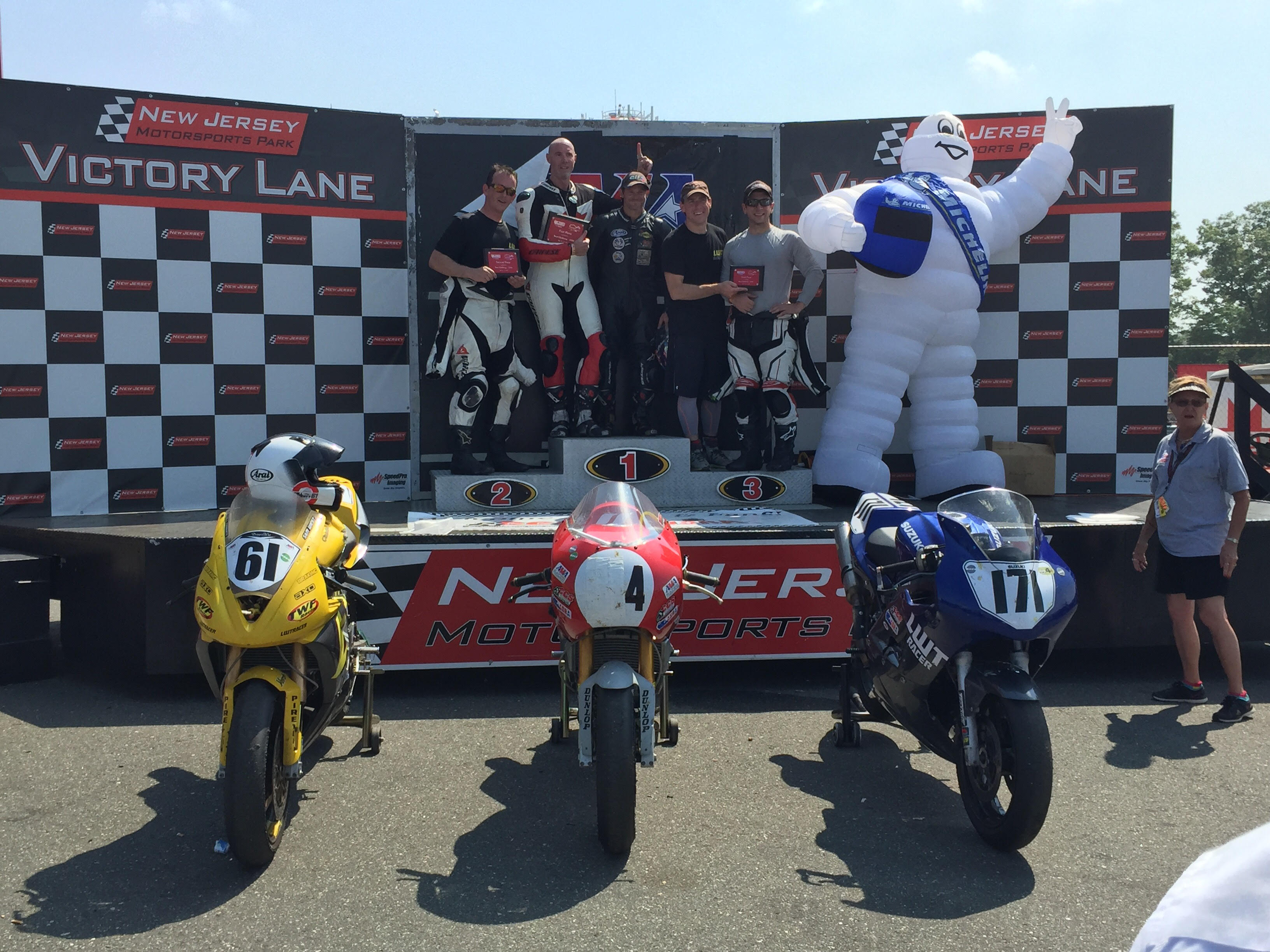 From Left to Right: Will Finnerty, David Hanig, Mark Every, Benjamin Loyle, & Todd Alberico.
This post has already been read 796 times!