Mavros Motorsports Wins Daytona – ASRA Team Challenge Final
This post has already been read 998 times!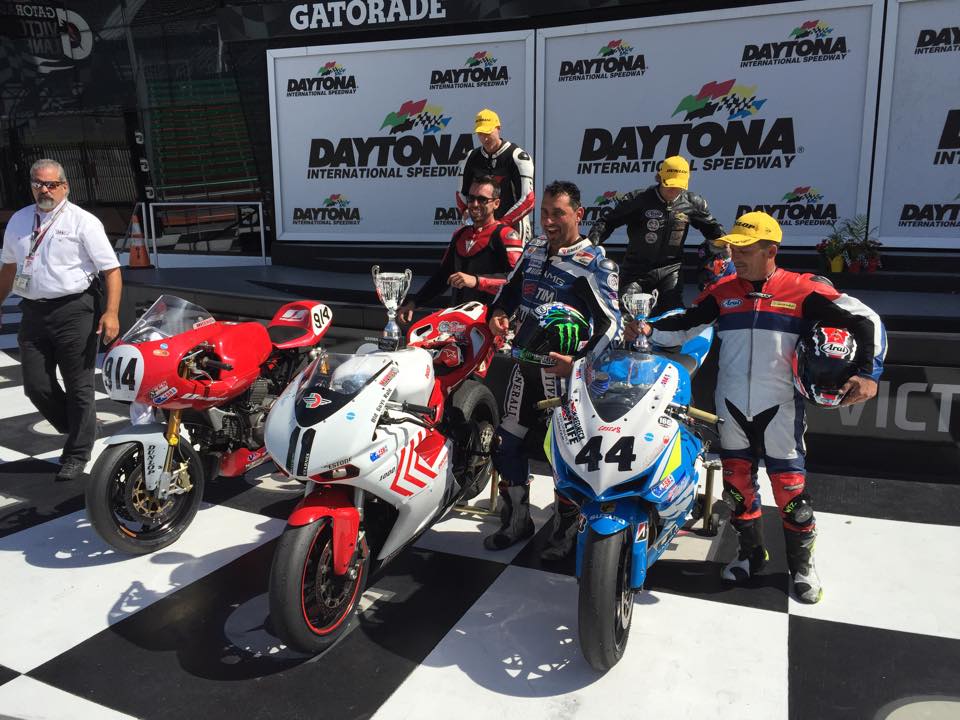 The battle for the 2016 ASRA Team Challenge GTL class came right down to the final race of the season between Mavros Motorsports (Charlie Mavros & Seth Starnes) and LWT Racer 61 (Will Finnerty & Sam Wiest).  13 teams on the grid. Motocorse Performance lead the race until the team would run into a mechanical issue on their Ducati Paul Smart. David Hanig, also on a Ducati Paul Smart, would lead the race until a few laps to go. The exhaust on the Rawspeed Ducati fell apart depriving Hanig of power. This let Seth Starnes on the Mavros Hybrid Ducati take the lead and the victory. With LWT Racer 61 back in 6th place, Mavros Motorsports would secure the GTL class championship.
2015 ASRA Team Challenge GTL Daytona Results
Mavros Motorsports – Ducati 1100
Rawspeed – Ducati 1000
Spartan Racing – Suzuki GSXR565
1855 Czaialaw.com – Suzuki SV650
Ducati Depot – Ducati 1000
LWT Racer 61 – Suzuki SV650
No Name Listed – Ducati 800
WP Bailey Racing – Ducati 1000
LWT Racer 76 – Suzuki SV650
Motocorse Performance – Ducati 1000
WP Bailey Racing II r – Suzuki SV650
6th Gear Squad Pedro – Suzuki SV650
Central Motorsports Miskell – Suzuki SV650
This post has already been read 998 times!