2015 RBoM SV Challenge Results – Zayat Dominates the Weekend
This post has already been read 1380 times!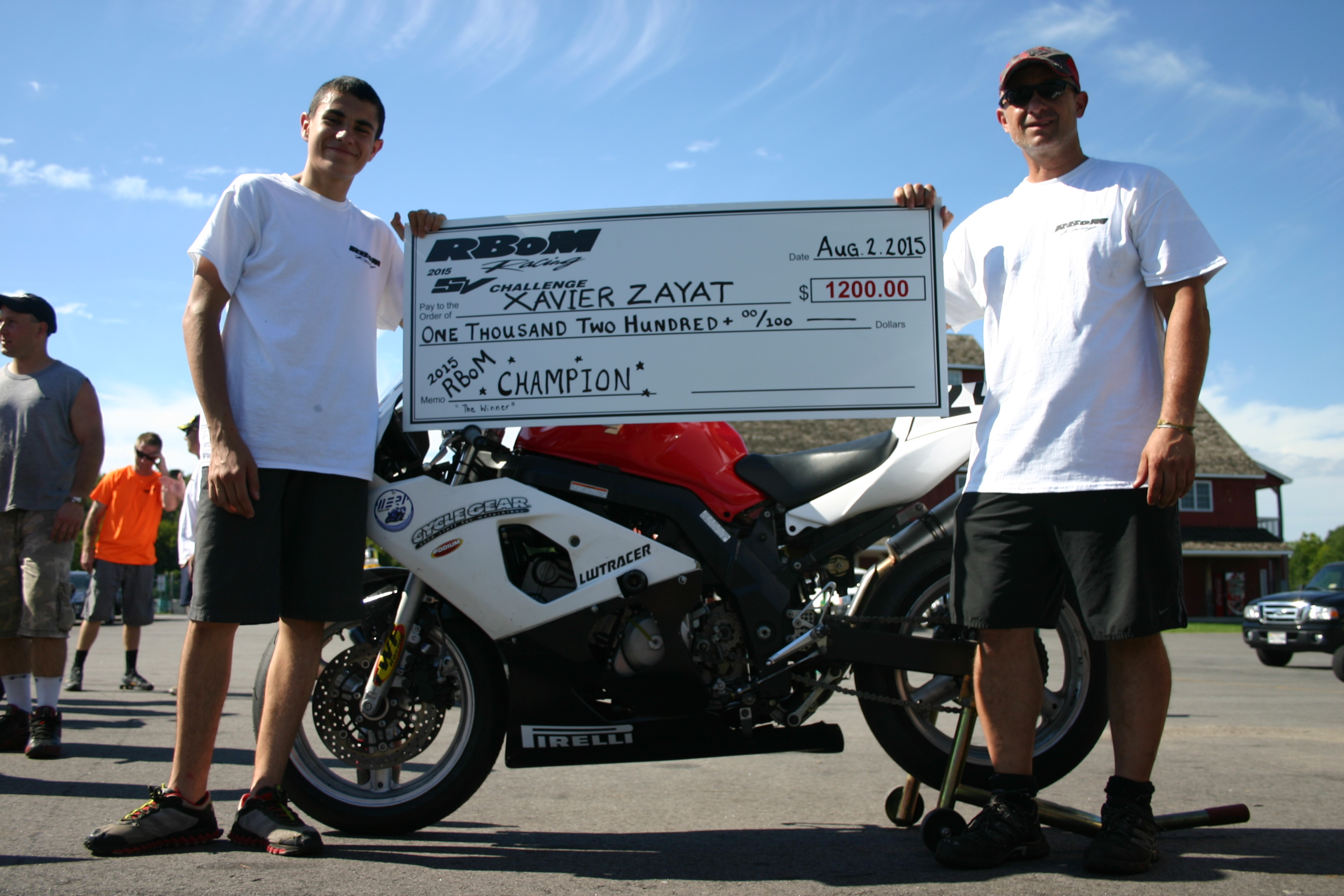 Race Winner Xavier Zayat and bike builder Michael Copoulos (Photo shot with Canon EOS Rebel T5 EF-S 18-55mm IS II Digital SLR Kit

)
Lots of hype around the 2015 RBoM Sv Challenge. Local favorite Brian Kcraget would have his hands full with Curtis Murray, Xavier Zayat and 27 other racers. But those are not the names you need to know. Russell Masecar had this wild idea to bring back an SV Cup style race. He opened his wallet and pulled out $4,000 in cash for the purse. Russell also had shirts made for all participants. Fram/Jon Craford supplied a free Fram oil filter to all the SV racers as well.
The qualifying race (6 laps) would have everyone dicing for the best starting grid as possible with many of the fastest guys starting from the very back including young Xavier Zayat. Curtis Murray grabbed get the hole shot and originally checked out. Brian Kcraget quickly made his way towards the front but on the first lap he went down in turn 10. David Stauffer and Chris Parrish fought over third place but they would have company in the form of Zayat on the #24 bike. Not only did the X-man pass both of them, he caught Murray and put that pass on during the final lap. Top 5: Xavier Zayat, Curtis Murray, David Stauffer, Chris Parrish, and Tommy Wilson.
Sunday practice was not kind to everyone. David Stauffer went down and injuring his ankle removing him from the final event.
With Zayat on pole and Kcraget starting from the back row, it's to no surprise that the kid jumped out to an early lead and never looked back. Xavier Zayat pulled out multiple laps in the unreal 1:32 range getting him with in two tenths of Brian Kcraget's lap record (2014 ASRA Thunderbike) of a 1:32.363. Xavier who managed a stunning 1:32.562 allowed him to pull off the win over Brian Kcraget by 12.739 seconds. Kcraget came from the back row of the grid, remind you of 30 SVs, due to his crash in Saturday's qualifying race to put his Speedwerk's SV650 in the number two spot in front of MotoAmerica/AMA 600 racer Curtis Murray. The two of them were also on a blistering pace putting them another 10.5 seconds in front of 4th place finisher Tommy Wilson. Tommy Wilson would find himself battling with Murray and then have Chris Parrish breathing down his neck for the remainder of the race. Tommy Wilson, Chris Parrish, and Sam wiest, all in the 1:35 lap times, would finish with in 8 tenths of each other.
Brian Kcraget would win the Late Braker award for making up the most positions in the race earning him a Brembo RCS master cylinder provided by Steve Long at Speedwerks.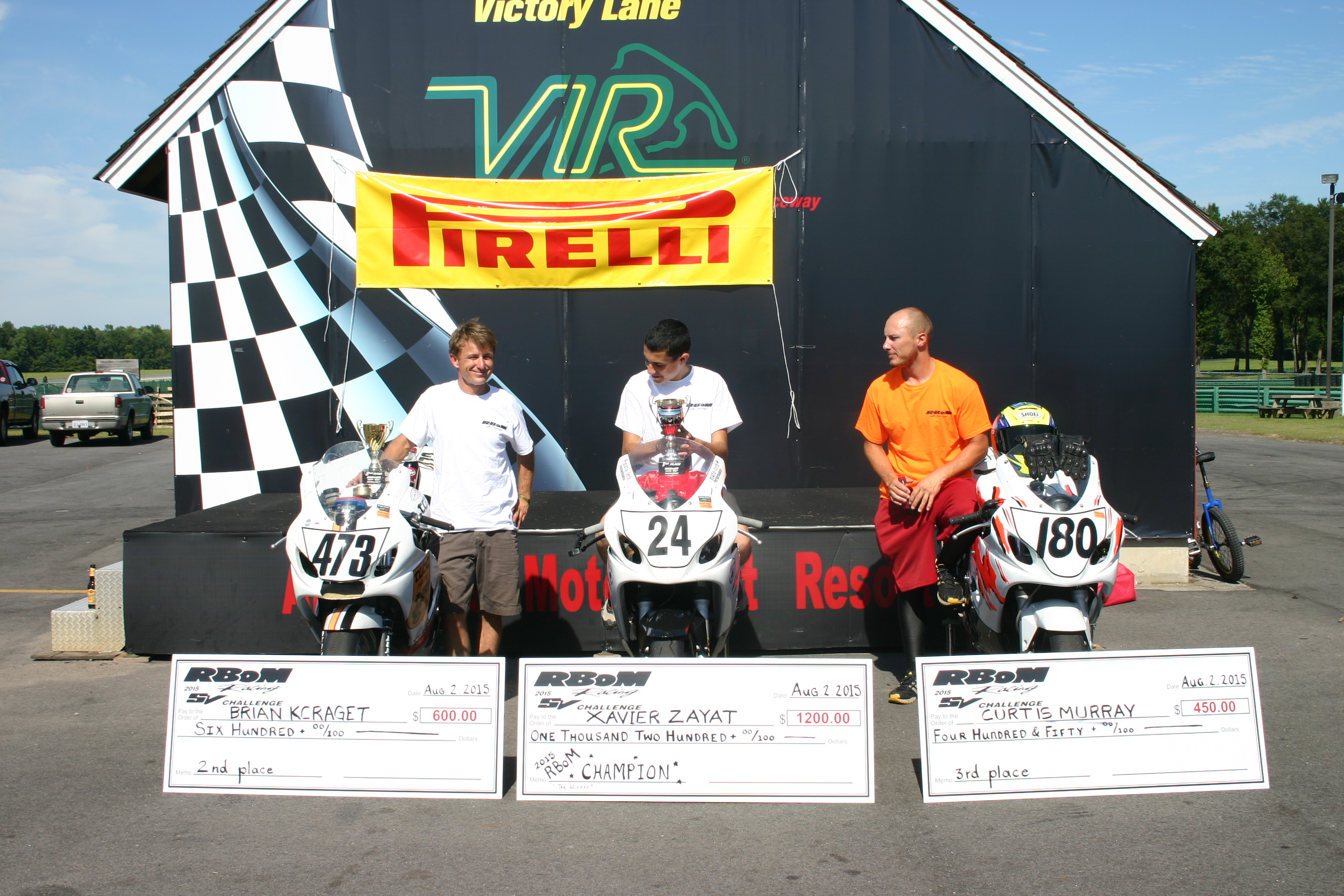 Place, Best time, Tire, Hometown
1. Xavier Zayat, 1:32.562 ($1200), Pirelli, Bronx NY
2. Brian Kcraget, 1:33. 278 ($600), Dunlop, Danville VA
3. Curtis Murray, no transponder ($450), Pirelli, Ellenboro NC
4. Tommy Wilson, 1:35.215 ($400), Pirelli, Dumfries VA
5. Chris Parrish, 1:35.503 ($350), Bridgestone, Nashville TN
6. Sam Wiest, 1:35.430 ($300), Pirelli, Ephrata PA
7. Nick McFadden, 1:35.626 ($250), Dunlop, Owensboro KY
8. Anthony Mazziotto III, 1:36.245 ($200), Dunlop, Hammonton NJ
9. Simon Buric, 1:36.702 ($150), Dunlop, Pittsburgh PA
10. Ned Brown, 1:35.898 ($100), Bridgestone, Virginia Beach VA
11. Nick Desautels, 1:36.945, Michelin, Park Forest IL
12. Russell Masecar, 1:36.479, Pirelli, Raleigh NC
13. Robert Rosacker, 1:37.549, Bridgestone
14. Scott Evans, 1:38.214, Dunlop, Mansfield OH
15. Darrell Emerson, 1:37.792, Pirelli, Annapolis MD
16. Joshua Jovi, 1:37.693, Bridgestone, Unknown SC
17. Michael Copoulos, 1:39.057, Dunlop, Hope Mills NC
18. Jon Crawford, 1:39.282, Michelin, Monclova OH
19. Jackson Wolfe, 1:39.095, Michelin, Las Vegas NV
20. Tracy Church, 1:39.318, Pirelli, Wilkesboro NC
21. Kevin Boda, 1:40.592, Bridgestone, Budapest Hungary
22. Aaron Borello, 1:40.474, Bridgestone
23. Greg Resinger, 1:40.517, Pirelli, Grafton OH
24. Nathan Jennings, 1:41.822, Pirelli, Roanoke VA
25. Rob Andes, 1:43.907, Bridgestone, Alpharetta GA
26. William Coats, 1:40.972, Pirelli, Charlotte NC
27. Edward Scammon, 1:45.663, Pirelli, Southern Pines NC
28. Draik Beauchamp, 1:46.315, Dunlop, Knoxville TN
29. Jonathan Farmer, 1:51.364, Bridgestone, Wilkesboro NC
DNF. Eric Ashbaugh, 1:38.949, Bridgestone, Randleman NC
DNS. Dante Witter, Dunlop, Lawrenceville GA
DNS. David Stauffer, Bridgestone, Brooklyn NY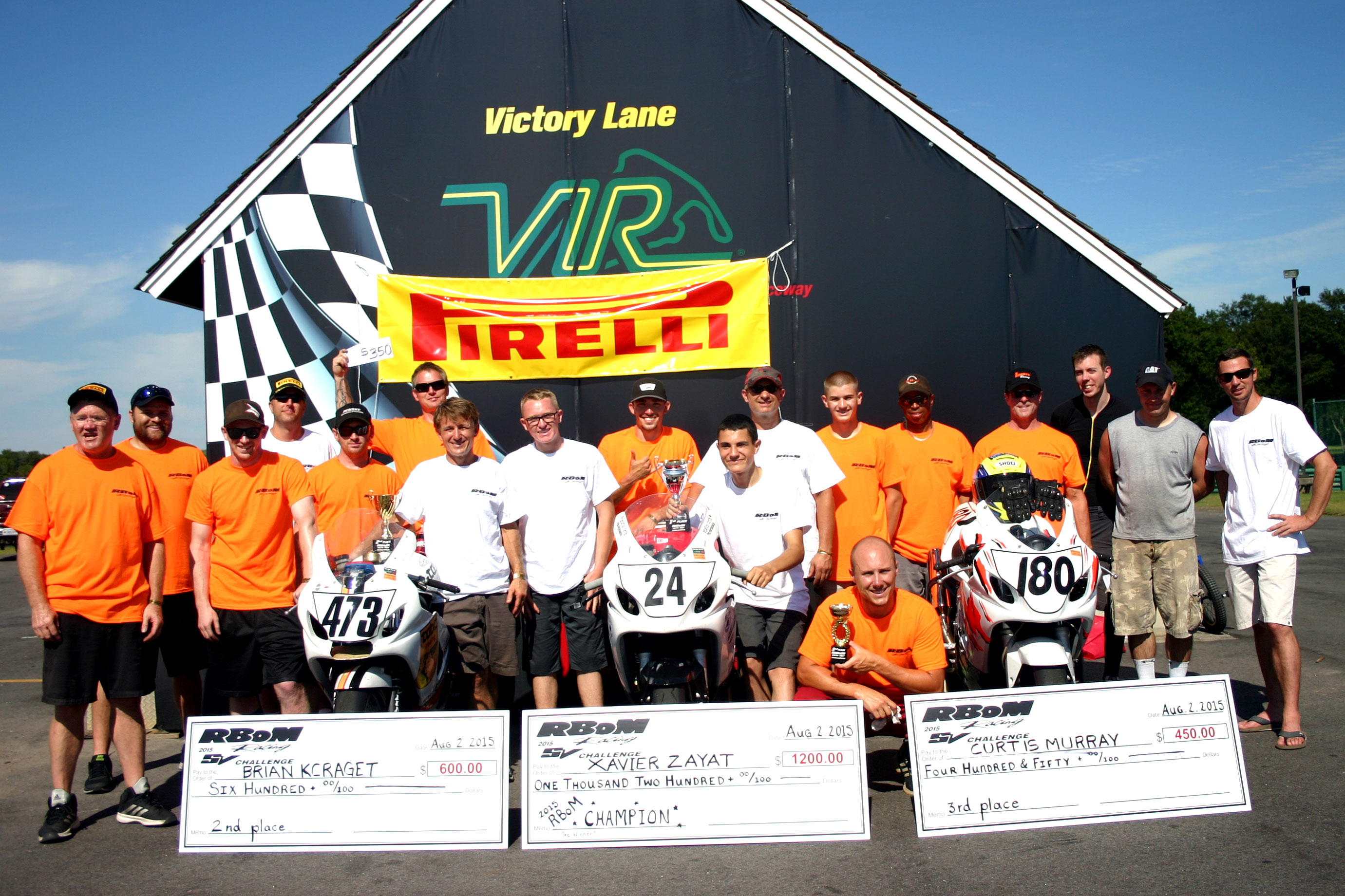 This post has already been read 1380 times!