Racer Log : Mike Randi LRRS #772 – Log #1
This post has already been read 727 times!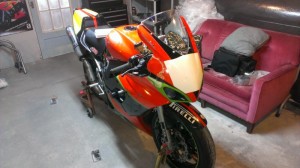 Hello all, my name is Mike Randi and I am a novice racer in the Loudon Road Race Series or LRRS for short at New Hampshire Motor speed way. First, let me give you some background on LRRS racing. This series is run on the road course at the famous NASCAR track in New Hampshire from April to October. The track is 12 tight and technical turns, hard braking is the norm and corner speed rules. This mostly left hand turn track continues to be a challenge to the most skilled riders. In the LRRS racers are divided into three separate classifications', Novice, Amateur, and Expert. Novice being the intro class or rookie class where racers learn race craft and how to compete safely with in a race. Once a novice meets the required lap times and has good safety record he or she will be moved to the amateur group. Amateur and expert groups are just like those that are found around the country in other club racing.
At LRRS the middleweight classes are the premier classes to race in. The Lightweight classes have a very strong showing and following. SV650 are among the most popular bikes at any event. Ducati Monsters are also starting to show up in the lightweight brackets. Over the next few blogs I will track my progress on an SV650 build from a "well used" race bike to a restored lightweight machine. I will be attempting to breathe some fresh life back to the bike that I have named "Dorothy". Looks for updates on racing, track days and other events from the northeast! Until then, Shiny side up!!!
Mike Randi
LRRS #772
This post has already been read 727 times!