2015 ASRA Pro Thunderbike from Summit Point
This post has already been read 715 times!
Total of 19 riders were in attendance for the start of the ASRA Thunderbike race at Summit Point, WV.  I don't know how many guys were on the grid that could potentially win this one but it was more than the podium could hold.  Charlie Coleman would lead qualifying and start the race on pole position with Brian McGlade, Bart Defrancesco, and Tommy Wilson to his right.   A crash earlier on Sunday would leave the #1 one spot on the grid empty.
Art Diaz and Brian McGlade would be one and two coming out of turn 1 with Tommy Wilson attempting an outside pass on Diaz.  Diaz would lead the freight train of riders for the first couple laps.  Wilson, Mcglade, Hoffman, Defrancesco, Wiest, Demotropolis, Blackmon, Robbins, and Hackett all dicing and scrambling for position as Diaz opened up a slight gap.  As the pack got mixed it it would be Wilson and Defrancesco battling for 1st, Diaz and Hoffman Battling for 3rd, and McGlade and Wiest going after 5th with a host of other riders ready to strikes.  Few laps in Art Diaz on his Buell would come in contact with Steph Hoffman on his SV650 coming into turn 10 sending both riders off track and to the dirt. Diaz would slide under the air fence causing the race to be red flagged.  Neither rider was injured in the incident. On the restart it would be Wiest that grabs the holeshot but that didn't last long as the #24 of Bart Defrancesco would slide up the inside in turn 3. Wilson would take over the #2 position in turn 4.  Both Wilson and Defrancesco would fight it out to the end.  Wilson would just edge out Defrancesco by 0.078 at the line.  #72 Brian McGlade would cross the line in the third position not far behind.
Tommy Wilson
Bart DeFrancesco
Brian McGlade
Adrian Hackett
George Demetropolis
Jackson Blackmon
Bob Robbins
Sam Wiest
Brandon Paasch
Chris Kolster
William Finnerty
Douglas Fogg
Jim Bonner
Billy Pedro
Jeff Gochenour
Arthur Diaz (DNF)
Stephen Hoffman(DNF)
Todd Alberico(DNF)
The ASRA Pro Thunderbike series' next stop is Virginia International Raceway on June 13/14, 2015.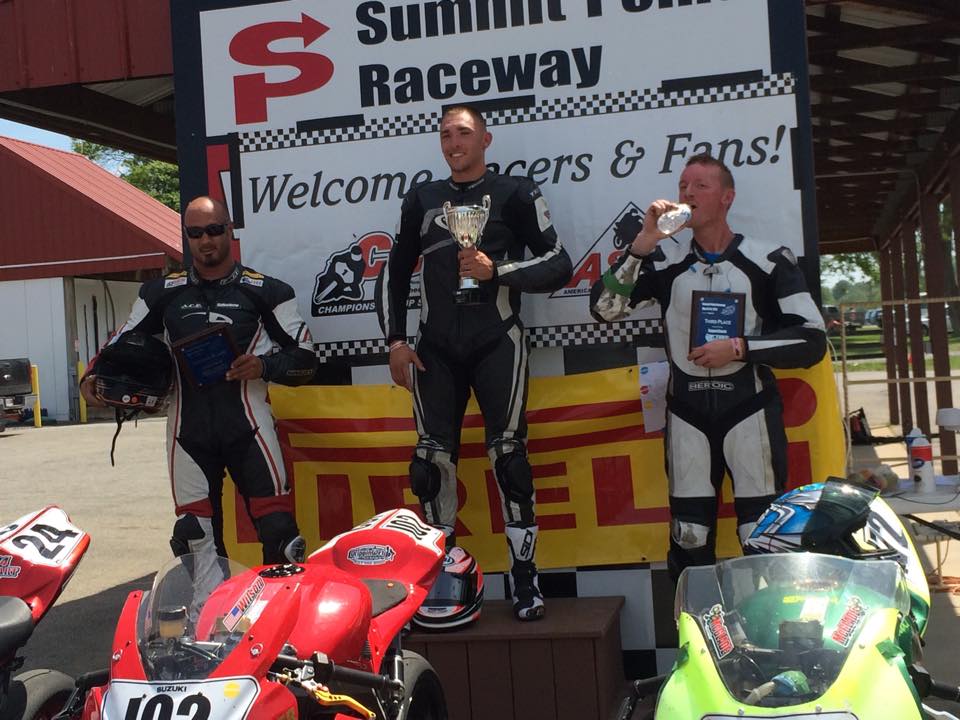 This post has already been read 715 times!