2015 ASRA Team Challenge Round #1 – Roebling Road
This post has already been read 976 times!
March 8th marked the opening round for the ASRA Team Challenge series. The 75 lap race took place at Reobling Road Raceway in Savannah, Georgia. Defending series champs Face Plant/Ducati Depot with Greg Melka at the reins of the 1100 Ducati Hybrid had a lap to lap battle with Seth Starnes of Marvos Team aboard their de-stroked Suzuki 565. The Ducati ran into some mechanical issues around lap 35 forcing them to pull it in. This left 2nd place up for grabs between LWT Racer 61, LWT Racer 171, and Moto Tech Performance. After 13 laps, a pre-mature pit stop by LWT Racer 61 put them back 2 laps. The race was red flagged on lap 50 which was a true blessing to the #61 eliminating a 2nd pit stop. The race would conclude with the Mavros 565 completeing 72 laps. LWT Racer 61 in 2nd place with 70 laps completed and LWT Racer 171 3rd place with 69 laps completed. Also with 69 laps completed, 4th place Moto Tech was not too far behind. The series moves on to Carolina Motorsports Park in mid April. The race will be a 3 hour event.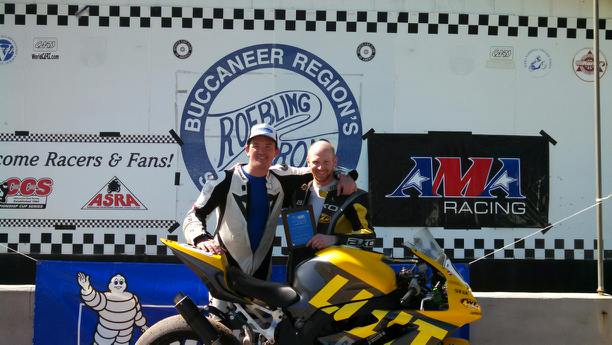 LWT Racer #61
This post has already been read 976 times!